SendPulse Review: An Email Marketing Service So Good, You'll Switch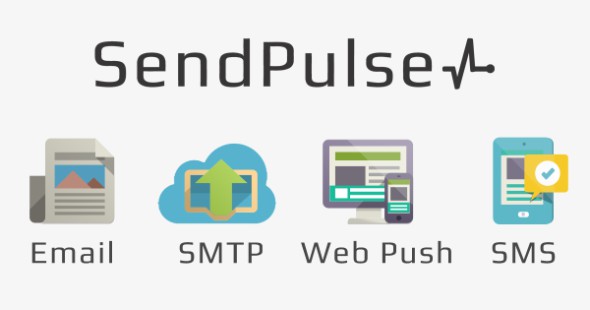 SendPulse is an integrated platform which allows you to send bulk email, bulk SMS messages and web push notifications to your subscribers. You can use any of these or all of these functions to engage your subscribers and nurture your email list.
SendPulse also uses a unique AI functionality which is designed to increase email open rates. It was among the 3 finalists of The Next Web SCALE program of 2016 and was recognised as one of the best startups of 2016 by The Next Web.
Among their notable clients are Swatch, Radisson Blue, and Template Monster.
SendPulse offers a host of great features and benefits, having one of the best free plans in the industry. It also delivers on usability, having one of the easiest learning curves you'll come across for this kind of service.
Plans & Pricing
SendPulse has a variety of pricing plans to choose from: 1 free plan, several list-based plans and pay-as-you-go plans, and 1 VIP plan if you have more than 1 million subscribers.
SendPulse's free plan doesn't require you to enter your credit card details which is always refreshing. The free plan allows you to send 15,000 emails/month to up to 2500 subscribers. If you exceed the number of subscribers, you'd have to upgrade to one of the paid plans listed below.
List-Based Plans
2500 subscribers – $9.85/month
3000 subscribers – $29/month
4000 subscribers – $32/month
5000 subscribers – $35/month
10000 subscribers – $53/month
25000 subscribers – $108/month
Pay-as-you-go Plans
If you don't send too many emails, SendPulse's prepaid email packages give you the option to pay only for the emails you need.
10000 emails – $32
25000 emails – $70
50000 emails– $125
100000 emails– $212
250000 emails – $440
500000 emails– $812
Key Features
1. Subscription Forms
Subscription forms are one of the essential components of growing your email list. SendPulse allows you to create subscription forms through their easy-to-use drag and drop feature.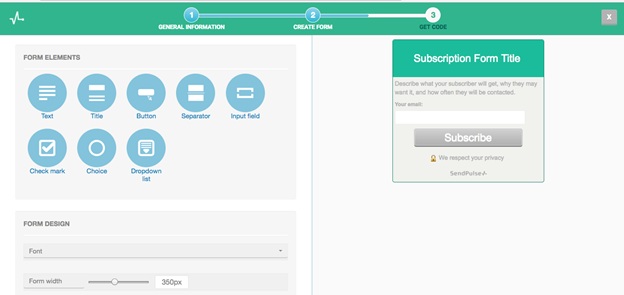 Once the form is created, you can copy the HTML code and paste it on your site where you'd like the form to appear.

You even have an option to share the subscription form on Twitter and Facebook.
2. Responsive Email Templates
SendPulse provides access to several professionally-designed responsive email templates for your email campaigns.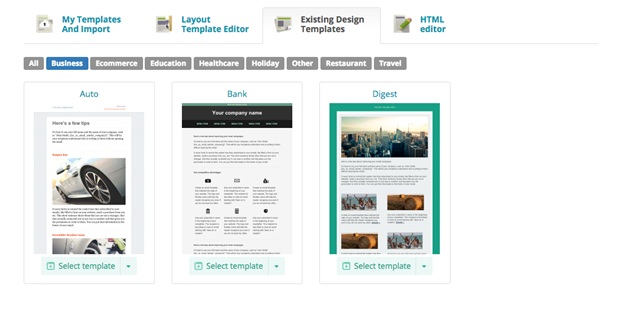 The email templates are organized into categories, some of which are tailored to specific industries such as Ecommerce, Education, Travel, etc.
3. Web Push
The web push feature is what sets SendPulse apart from other email software services in the market.
Web push allows users to get notifications on their desktop whenever you publish new content on your website. It's a great way to increase traffic to your site as well as attract unique visitors.
Creating push notifications for your site using SendPulse is simple:
On the top menu bar, click on 'Push" and then click 'Add new website'
Next, enter the URL of your website. It's recommended that you have an SSL certificate aka HTTPS enabled on your website.
Next, you'll need to integrate push notifications on your website. Just follow the instructions on the screen to enable push notifications on your website.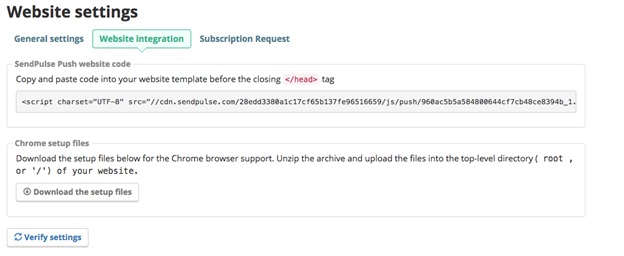 4. Email Analytics
Data obtained from email analytics reports is crucial to improve and optimize your email marketing campaigns.
SendPulse provides a comprehensive analysis of your email campaigns from the reports tab. In addition to basic analytics information like open rate, click rate, unsubscribes, etc. SendPulse also allows you to compare email campaigns and helps you figure out what's working and what's not working in your email strategy.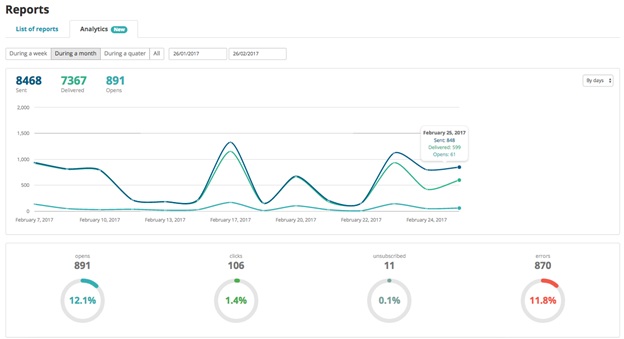 5. Autoresponders
Email automation plays a key role in growing and engaging your email list.
With SendPulse, autoresponders are easy to setup. The best aspect of this feature is that it's available even under the free plan. No other email service provides this all-important feature for free.
So if you're on a shoestring budget, but would like to see the benefits of autoresponders, SendPulse is the service you should sign up for.
6. Resend to Unopened
As the name suggests, this feature allows you to send emails to people within your email list who haven't yet opened your emails.
Depending on your industry, this feature can easily result in increase in the open rate by 30-80%.
This feature is usually offered as part of the paid plans by most ESPs, but SendPulse allows you to use this feature for free.
7. A/B Testing
A/B testing or split testing allows you to measure the effectiveness of your emails and improve your results based on your subscribers' preferences. This is one of most underutilized features in email marketing, but one that has maximum benefits when executed well.
SendPulse offers this feature even under their free plan, unlike most ESPs.
It has a bit of a learning curve involved and we advise you to click here to learn more about A/B testing works on SendPulse.
Conclusion
SendPulse is easy to use and offers certain unique features such as web push and SMS services at a very competitive price. Its free plan is perhaps the best in the industry, giving you access to premium features such as autoresponders, resend to unopened, etc. for free.
If you're looking for a reliable and efficient email service that's easy on the pockets,, SendPulse is an easy choice to make.