Wrike: Online Project Management Software for Growing Businesses
If you're a small business, you might be able to get away with using email and spreadsheets to manage your work. But as your business grows, you need tools that will support that growth and make it easier to organize and complete projects — and communicate effectively with your expanding team. Established in 2006, California-based Wrike is an online project management software that helps businesses organize, plan, and collaborate on tasks easily and efficiently with colleagues all over the world. More than one million users and 11,000 paid customers rely on Wrike's online tools for project management to get work done every day.
The Wrike app's interface is user-friendly, easily customizable, and quick to navigate. Organize your work into folders and subfolders however you wish, whether by company department, client, project, urgency, etc., so all your tasks and files are easy to find.
Share tasks and folders with specific teammates or entire user groups, then use task comments to discuss ideas, leave instructions, or provide status updates instead of sending emails. In Wrike, you can upload and attach files directly to the related task, so important documents are always up-to-date and easily at hand.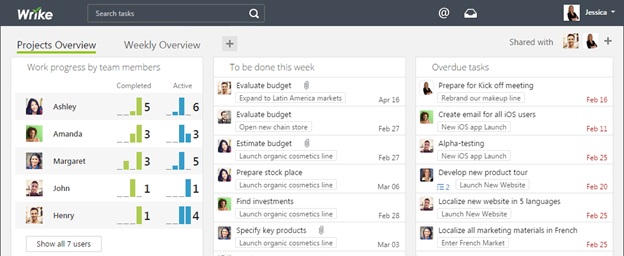 Highlights:
Wrike's online project management tools include an interactive Gantt chart for easy project planning. Drag and drop on the project timeline to adjust your plan, set milestones, and make sure your work is progressing as planned. Wrike's visual analytics and customizable reports help you monitor your team's productivity and compare initial plans with actual progress.
Another top feature is Wrike's email integrations, which let you turn any email message into an actionable Wrike task with one click, without ever leaving your inbox. You can receive updates and leave comments on your Wrike projects and tasks straight from Gmail, Apple Mail, or Outlook.
If you're managing a project or team, you probably spend a good deal of time asking for status updates and checking in on work progress for important tasks. Wrike's real-time Activity Stream saves all the time you spend chasing down this information by showing a live feed of status updates and task discussions for the projects you follow. Getting up to speed on the latest developments is as easy as scrolling though your Activity Stream.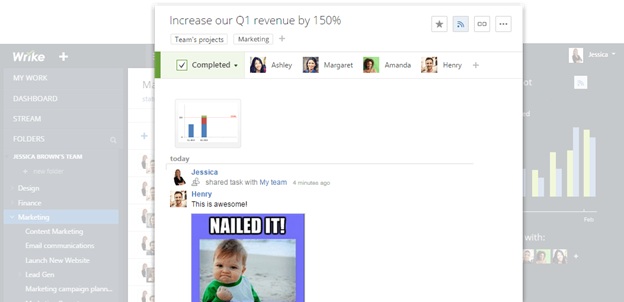 Collaboration and Workload Management
Build custom Dashboards in Wrike to keep all your high-priority projects and tasks front and center, then share Dashboards with your team so you all stay aligned on high-priority tasks and deadlines.
Wrike's Workload view is a valuable tool for making sure important deadlines are met and your team is as productive as possible. It consolidates everyone's tasks in one view, so you can see who's overloaded with work and in danger of missing deadlines, as well as who is available to help pick up some of the slack.
Very few teams do all their work with a single tool. Fortunately, Wrike integrates with dozens of popular web apps, including:
Cloud storage, including Box, Dropbox, Google Drive, and Microsoft OneDrive
Gmail, Apple Mail, and Outlook
MS Project
MS Excel
Evernote
Salesforce
Zapier
WordPress
iCal, Outlook Calendar and Google Calendar
Survey Monkey
Wufoo
Hubspot and Marketo
Google Apps
Slack and HipChat
Zendesk
Quickbooks and Harvest
ProofHQ
Wrike also has an open API so you can build your own custom solution.
Wrike Plans and Pricing:
Wrike offers several different plans to accommodate teams of any size.The free option offers 2GB of storage space and essential work management features, including file sharing, the real-time Activity Stream, and email integrations. The paid Professional plan is $10 per user/month for 5, 10, or 15 users and includes project management features like the interactive Gantt chart, subtasks, custom Dashboards, and a notification center. The Enterprise plan, designed for large teams, offers advanced features like Custom Fields, Custom Workflows, real-time reports, and custom calendars.