iPhone too slow? Here's how to fix it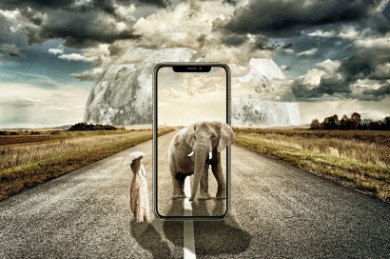 Now that some of us have come to spend a full third of our days using them, a slow phone can be a huge annoyance. If your iPhone is running noticeably more slowly than it did when you first got it, don't despair – you can probably make it as good as new with a few clever adjustments. Try these tips and with luck, you'll see an improvement.
Check Your Open Apps
Whenever you're presented with a problem, the best way to root out its source is to start with the basics. You might think you've been diligently closing every app after you're done using it, but it's such a small thing that it can easily slip your mind and it may only take a few to seriously cripple your phone's performance. Double press the home button to pull up your active apps, then swipe the icons for the ones you're not using up off the screen to shut them off.
Optimize Your RAM
Just like a computer, an iPhone needs enough available memory in the system to keep it running smoothly. Clearing out your RAM storage every once in a while can help cut down on the cyber-clutter reducing the efficiency of your device. To do this, hold down the power button until you see the swipe prompt pop up, then hold down the home button until you find yourself back at the home screen.
Clean Out Old Messages and Unused Apps
Your phone will struggle to run efficiently if its storage is too bogged down. The good news is that you can almost certainly clear some data out to make more room without losing much of value. Go through your apps and honestly assess whether or not you really need each one on your device, then uninstall the ones that don't make the cut. You can also change your iMessage settings to discard messages after 30 days to save even more space.
Turn Off Unneeded Location Trackers
Google Maps and GPS apps are one thing, but many apps run location-collecting processes behind the scenes despite having no obvious reason to do so, and this does nothing for you but slow down your device. Tap 'Location Services' under the Privacy option of the Settings directory to turn it off for each app as needed – you can keep it on for the ones that actually make use of it, so you won't miss out on anything by making the change.
Disable Extra Features
Modern iPhones come with all sorts of bells and whistles, from flashy effects and animations to make the interface attractive to automatic updates and downloads for your convenience. That's all well and good if they don't impede the functioning of the device, but if they do, it's time to get them out of the way. Turn them off in the Settings menu for a simpler yet faster experience.