How Does an Online Slot Machine Work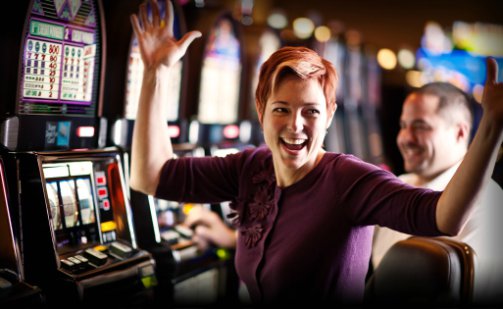 Slot machines remain an enigma to players. How do they work? What determines which symbols will appear? Does the size of your bet change the outcomes of your gaming sessions? Is there any skill or strategy you can use to improve your winning chances? Scores of questions abound, and this guide will help you to understand everything you need to know about online slot machine games.
Online slots, like traditional slots, are governed by random number generators. These are complicated computer algorithms that 'randomize' the outcomes of every spin. Without an RNG, slots games would be rigged. Remember, slots games are negative expectation casino games. This means that in the long-term the house always wins. There are many useful tips, tricks and slots strategies that you can employ to beat the house over the short-term.
What makes an online slot machine work?
Online slots are pre-programmed with a specific payback percentage set by designers. Casinos then decide which games to offer players. The payback percentage of a slot machine game is different to the RNG. The RNG is simply responsible for randomizing outcomes on every spin. The moment you select an online slot game to play – classic slot, video slot or progressive jackpot slot – deposit money, and click the spin button, the RNG is activated. Slots games can be played in a demo mode, and a real money mode at most online casinos.
Picking a slot machine is a matter of preference. It is possible to check the RTP (return to player) percentages of slots games before you play them for real money. Games with a higher return to player percentage are preferred. For example, given the option of Slot Game A with a 98% RTP, or Slot Game B with a 96% RTP, opt for the former. An RTP of 98% means that you can expect to win back 98% of your bankroll over the long-term. Therefore, slots are negative expectation games. Gaming authorities routinely publish payback data of slots, but these are industry-wide stats for all slots, and not related to individual slots games.
Is there any skill or strategy you can use to increase your winning chances with online slots games?
Yes. There are several things that can be done to improve the likelihood of winning on a slots game. Since every spin on a slots game is random, and independent of all prior spins, anyone can win at any time. With progressive jackpot games, the jackpots can be hit randomly – no specific combinations of symbols need to form for the jackpot to pay out. Classic slots however are different a set number of symbols needs to line up on activated paylines in a specific pattern to pay out. Also, if you are going to be playing a progressive jackpot slots game, wager at maximum levels to ensure that you activate the highest jackpot in the game.
As always, be mindful of your account balance (your bankroll), and divide your money up into manageable portions to ensure that you diversify your risk. You certainly don't want to be playing an expensive slot game and burning through your bankroll in a few minutes. There is no way to determine when a slot machine game is going to pay out. However, gaming aficionados recommend playing a slot game that has a high jackpot, or a jackpot that is at similar levels to previous payouts. Low-frequency payouts with big jackpots are possible on classic slots and progressive jackpot slots games. Video slots games pay out more frequently, but they pay less.
Use online casino bonuses and promotions to your advantage
Online casino players can enjoy a wide range of benefits such as loyalty points, free spins, matching bonuses, and slots promotions to enjoy more time at the slots machines. These added extras, although beneficial, do not increase your chances of winning. They merely prolong your gaming sessions and given the chance-based nature of slots games allow you more opportunities to spin for a win. Payback percentages on slots games simply represent how much of each £1 you will receive back over the long-term from that specific slot game. The house edge represents how much of each £1 the house will win over the long-term.
An online slot machine that has not paid out in a while is not due for a payout. This is known as gambler's fallacy. The fact of the matter is that slots are governed by random number generators (RNGs) and anyone can win at any time. Whether you're playing online slots during peak hour or the witching hour, it makes no difference to the outcome of each spin. Finally, the possibility of an online slots win is not dependent on the size of your wager. RNGs alone are responsible for wins and losses.