Recording Desktop Videos with Movavi Screen Capture Studio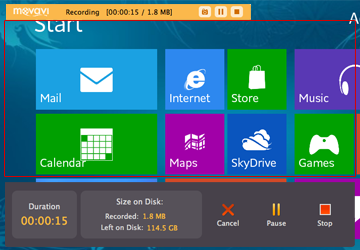 Do you want to be able to record a video of your desktop? Although initially you may wonder why you would want to do so, the fact is that it is actually extremely useful and will give you the means to not only create video tutorials but also submit detailed bug reports, demos, or record any other content that may appear on your desktop screen.
While you may be uncertain about how difficult it will be to use desktop recording software, with Movavi Screen Capture Studio you shouldn't run into any such issues. It is designed so that even beginners will be able to start using it and immediately record desktop videos – which means that you don't have to worry about having to spend time learning how to use it.
How to Record a Desktop Video
In order to record the video itself, all that you really need to do is:
Set the capture frame to encompass the area that you want to record by resizing the window.
Choose the audio source that you want to capture by selecting to record the system audio, or input from a microphone, or both.
Start the recording by clicking 'REC'.
Stop the recording when you're done and save it in a format of your choosing or by using one of the presets available to optimize it for a specific device or platform.
That is really all that is involved in recording desktop video, and it should be evident that the process is fairly straightforward. If you want a bit more control over the video that you record you can set the frame rate, and also set the software to capture keyboard and mouse actions too.
When you're satisfied with the footage that you've recorded, you can also use the other features of Movavi Screen Capture Studio to edit and improve it. With these features you can cut and combine video segments, enhance the video quality, insert customizable text, add background music or voiceovers, apply special effects and filters, and much more.
Needless to say all these features in Movavi Screen Capture Studio will help to ensure that you're able to create exactly the kind of desktop video that you want. It will probably just take a few minutes for you to familiarize yourself with them, and start to apply them to create great-looking videos.